Our farmers are the heart and soul of Fleurieu Milk Company.
They are also the directors that oversee the company and try to keep everyone in line.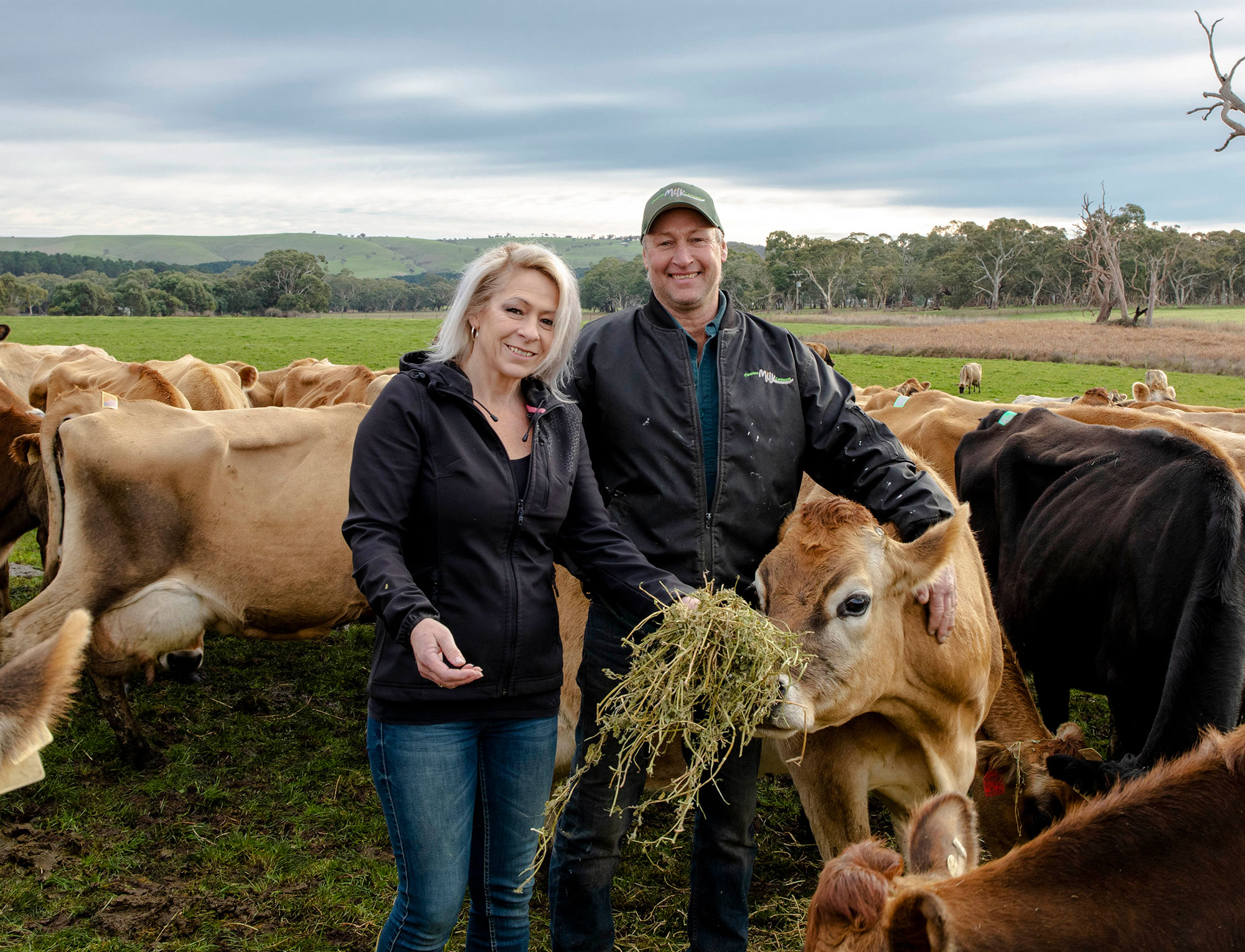 BARRY & MERRIDIE
Barry & Merridie Clarke are co-directors of Fleurieu Milk and owners of Roslyn Vale dairy farm. Rosyln Vale is a family owned farm, first purchased by Merridie's grandparents back in 1926. Baz has always been a full-time dairy farmer, who first started milking cows back in 1976 with his brother who now resides in Lucindale as a beef and sheep farmer. Baz and Merridie purchased Rosyln Vale in 1993 from Merridie's parents.
The farm is home to over 300 Jersey cows, grazing on more than 400 acres of lush green pastures. Today Baz and Merridie have three kids of their own and are also proud grandparents. Baz hopes that one day the Rosyln Vale dairy will be handed down to the family continuing the family legacy.
Baz and Merridie still find it hard to believe what was once a simple idea in 2006 has grown to become what is today. Baz says 'our biggest challenge moving forward is not losing our originality of where we started and who got us to where we are today. It's a little scary to now think the decisions we make as a business directly impact more than 50 odd families who work for us today'.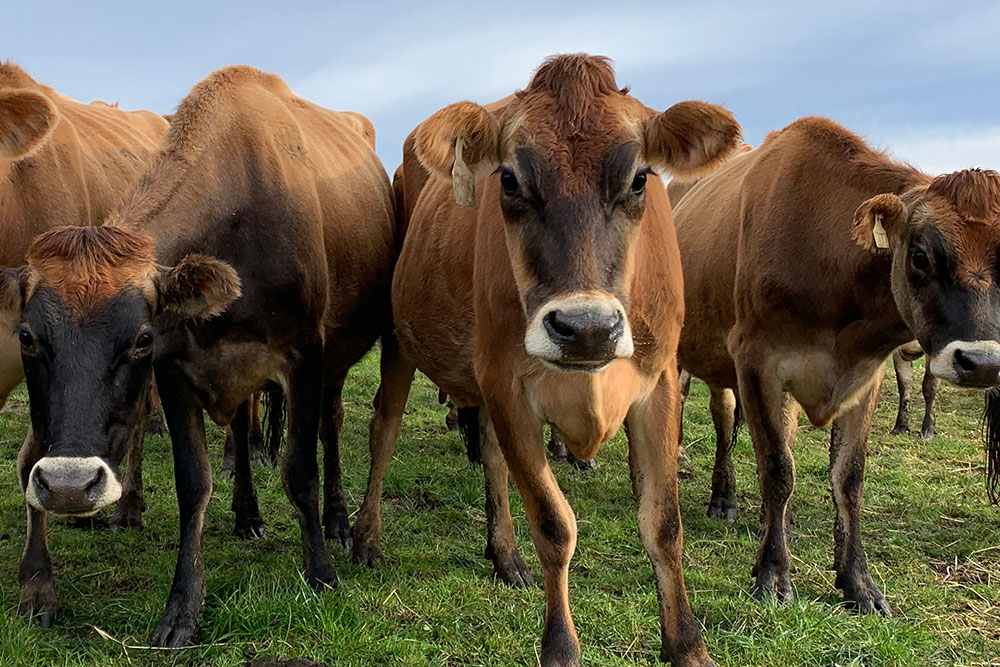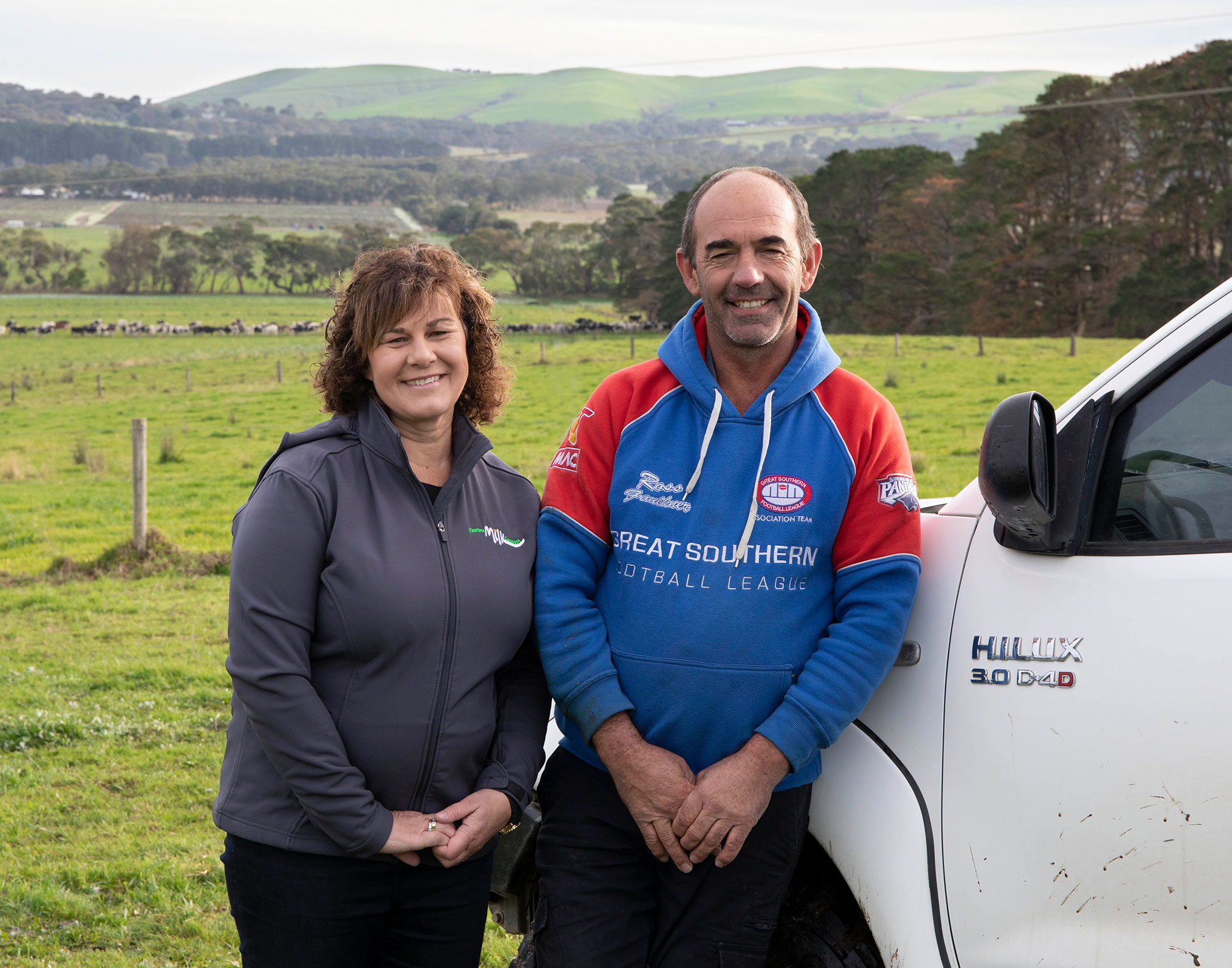 GEOFF & LOUISE
Owners of Windy Vale Holsteins and directors of Fleurieu Milk Company. If you've read our story, you'll know Geoff has been involved from the beginning having made the bold decision to go out on their own and begin bottling their own milk. Geoff Hutchinson more affectionately known as 'Magpie' is born and bred in Myponga. Married to Louise in 1989 they began their life as sharefarmers on Chris & Karen Royans' Myponga farm, which is now HQ to Fleurieu Milk Company.
Windy Vale, home to more than 300 Friesian cows and located only 400m from the factory is our most technically advanced dairy.
In 2016 significant improvements were made to the dairy which now has the capacity to milk 30 cows every 10 minutes by one farmer. These efficiencies allow Geoff and his farm hand Rob to spend more time looking after the herd and pursuing his passion – embryo transfer.
As of 2020, Windy Vale will be the only dairy in SA with an accredited embryo quarantine, allowing Geoff to breed some of the best cow genetics in the world.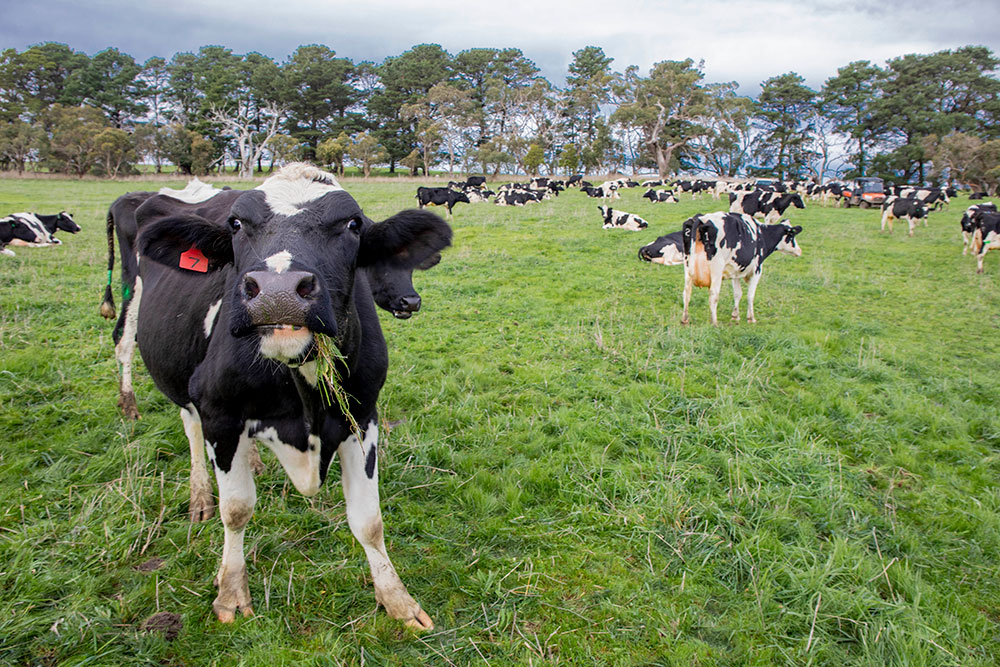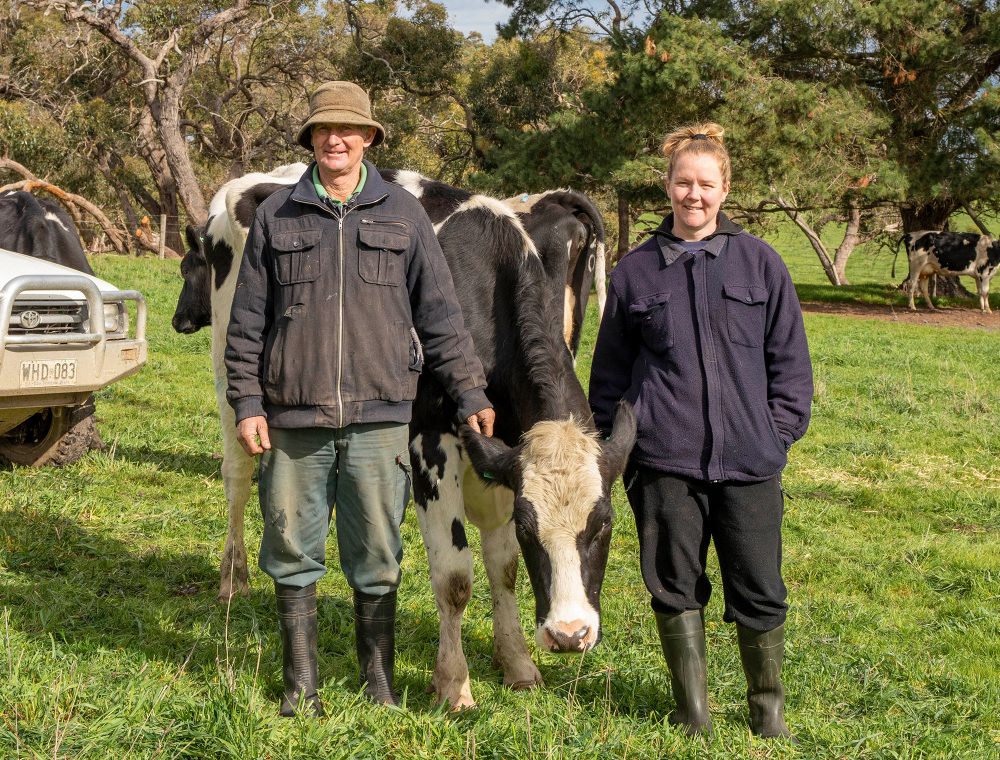 CRAIG & SAM
Sam Martin is our youngest dairy farmer and daughter to lifelong dairy farmers Craig and Gayle Martin. Together, they are owners of a 400-acre property – Bengowrie which is home to more than 220 Friesian cows, producing around 1.5 million litres per year. Sam is a 4th generation farmer having taken over the family tradition from Dad – Craig who still provides a helping hand on a daily basis.
The dairy farm has been in the family since the early 1920's, first started by Sam's great grandparents. One of three daughters, Sam was the only sibling who developed the passion for farming. From a young age she was always out on the farm with Dad, riding motorbikes and driving the ute but was always encouraged by Dad to spread her wings working in Human Resources for 9 years in Adelaide, Alice Springs and Townsville before returning to dairy farming Myponga in 2014.
Sam says 'Getting paid more for our milk is important but what really makes a difference is the security we now have with Fleurieu Milk. This allows us to make easier financial decisions when considering improvements to our farm'.
Sam is Mum to beautiful little Daphne and it's fair to say we're excited for to see if she follows Mum's footsteps.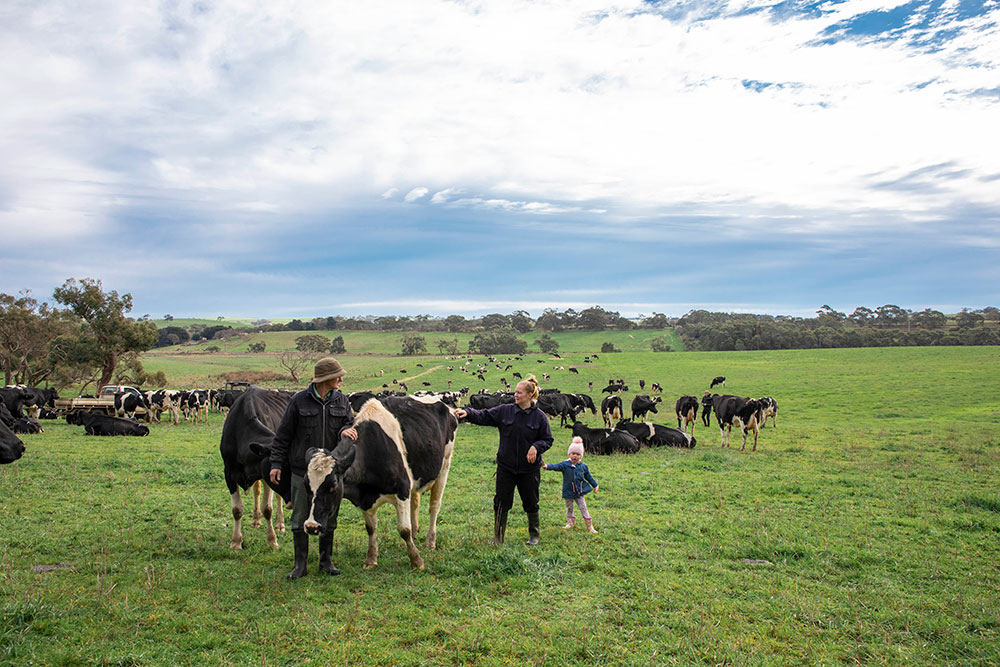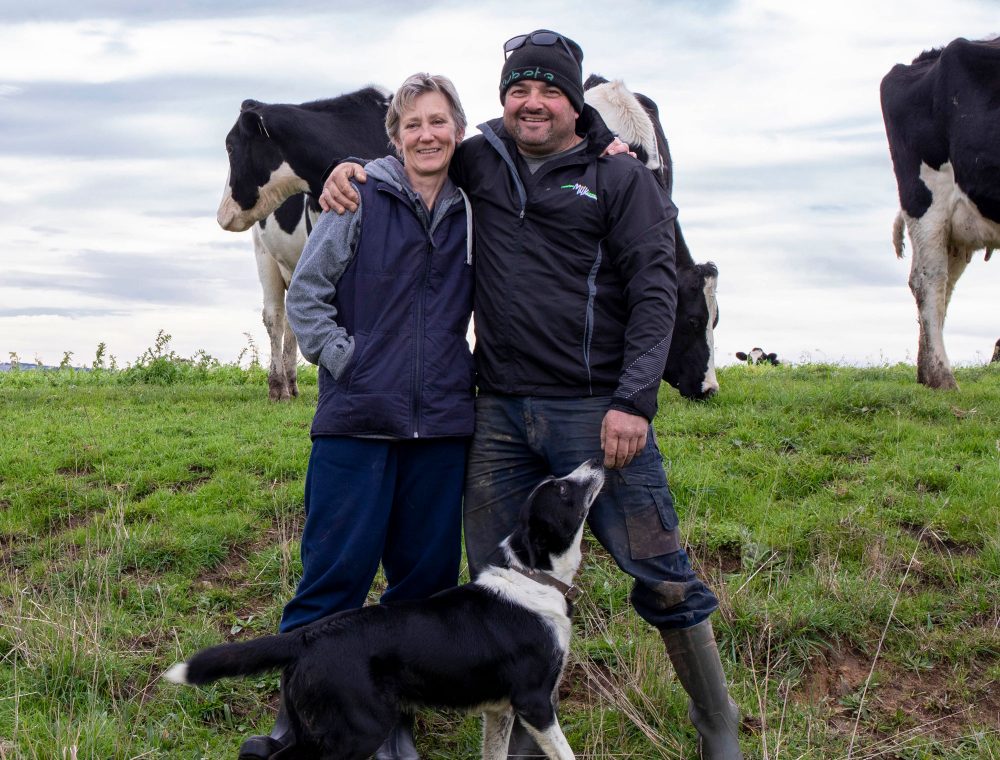 STEVE & INGE
Owners of Manna Springs, Steve is a 2nd generation dairy farmer whose family has lived in the Myponga area for more than 70 years. The farm was first purchased by Steve's parents Michael and Anna in 1973. Inge and Steve meet in 1998 during Inge's backpacking trip to South Australia. Inge left Australia that year and headed back for the Netherlands only to return not long afterwards having fallen in love with Steve.
Now, over 20 years later, they are proud parents of two teenage boys, Tom & Jack, who also help on the farm whenever possible. Steve still remembers the initial phone call from Geoff when asked if he would be happy to supply Fleurieu Milk, on the brink of giving dairy farming away Steve & Inge are now proud to contribute to South Australia's economy and love the fact that the Fleurieu Milk Company is farmer owned.
Being part of the Fleurieu Milk Company has allowed Steve to make capital improvements on his farm which now allows him more time to spend with his family. Steve says 'being a part of the Fleurieu Milk family gives me faith that the farming industry in Myponga has a strong future'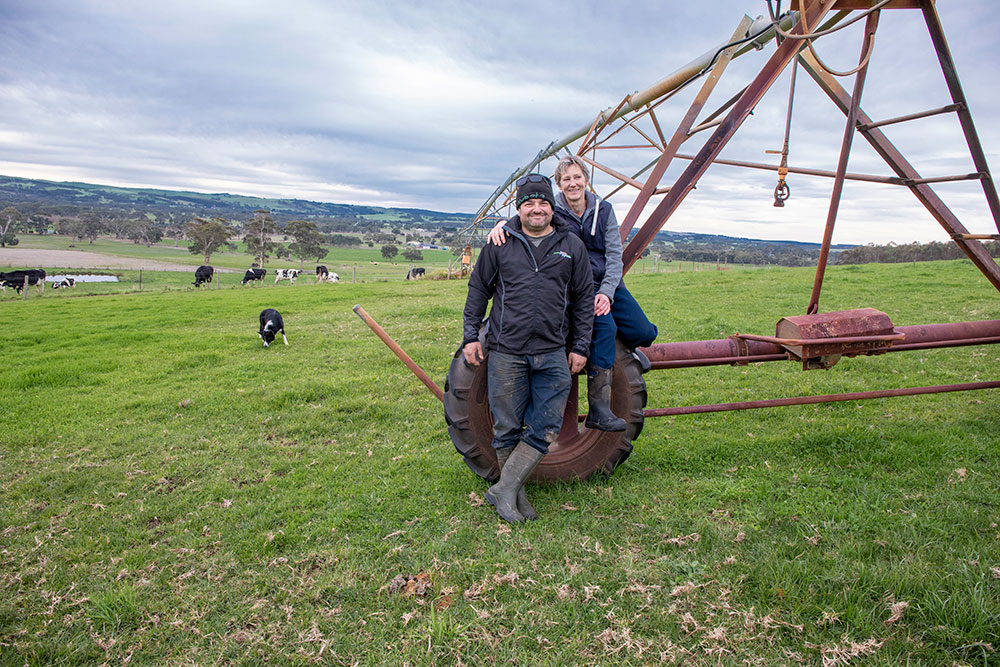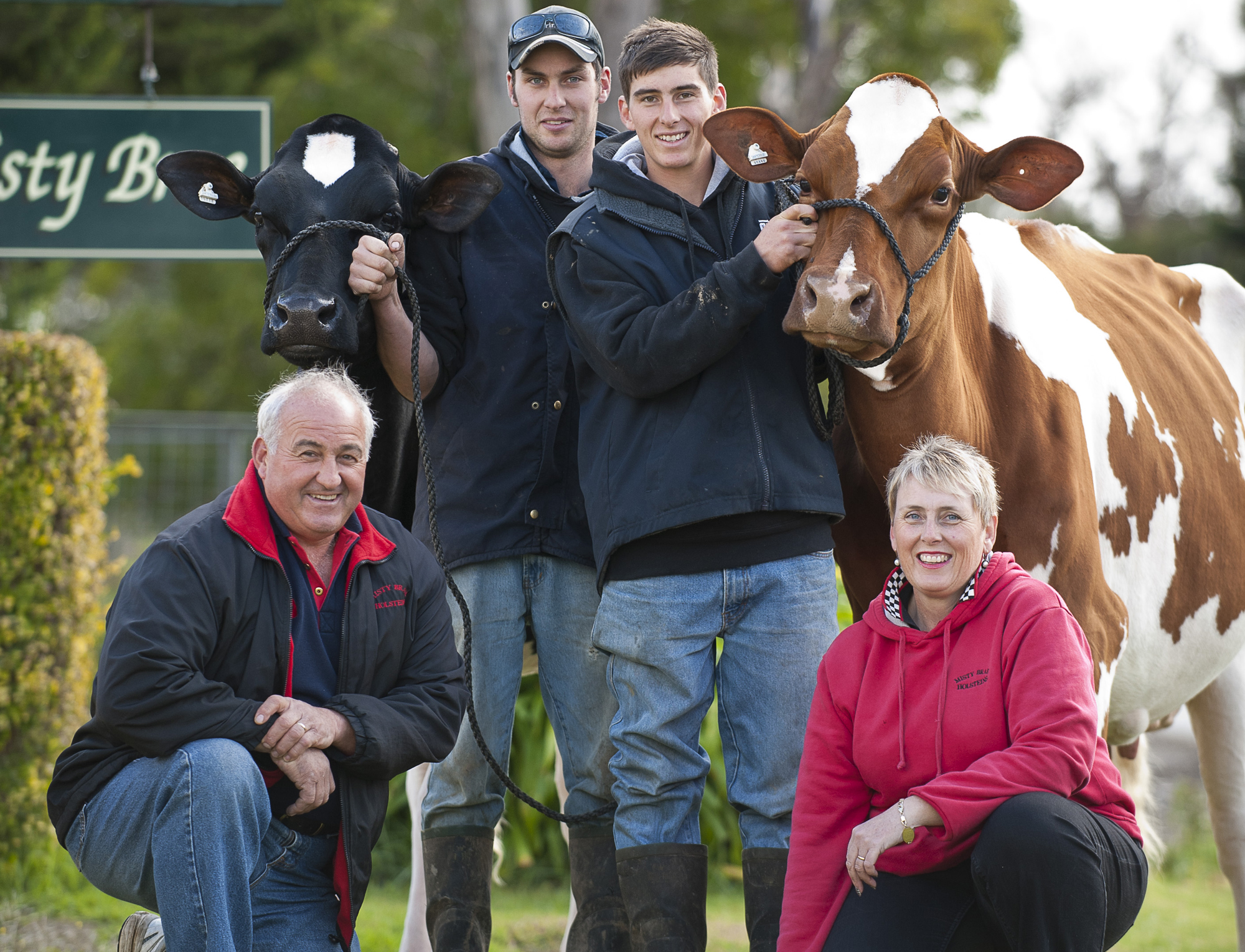 GINO & MANDY
Located just kilometres down the road from Fleurieu Milk, Misty Brae owners Gino and Mandy Pacitti start their day at 4.30am but always "aim to finish by 6pm, that way we get a bit of quality time to spend with family".
After all, family is at the heart of Misty Brae's history and present-day operations, with Gino's parents first farming a small property after emigrating from Italy in the 1950s.

Gino & Mandy bought their first property on the outskirts of Myponga in 1964 and began dairy farming. Today, Misty Brae has swelled from 25 to 300 hectares, with Gino and Mandy leasing additional land to farm a total of 400 hectares and produce two and a half million litres of milk each year.
On the property, it seems to be heading directly for the farm's third generation, Ashley and Andrew. Andrew's first recollections of farm life involves "sitting on the motorbike with Dad or being on the tractor".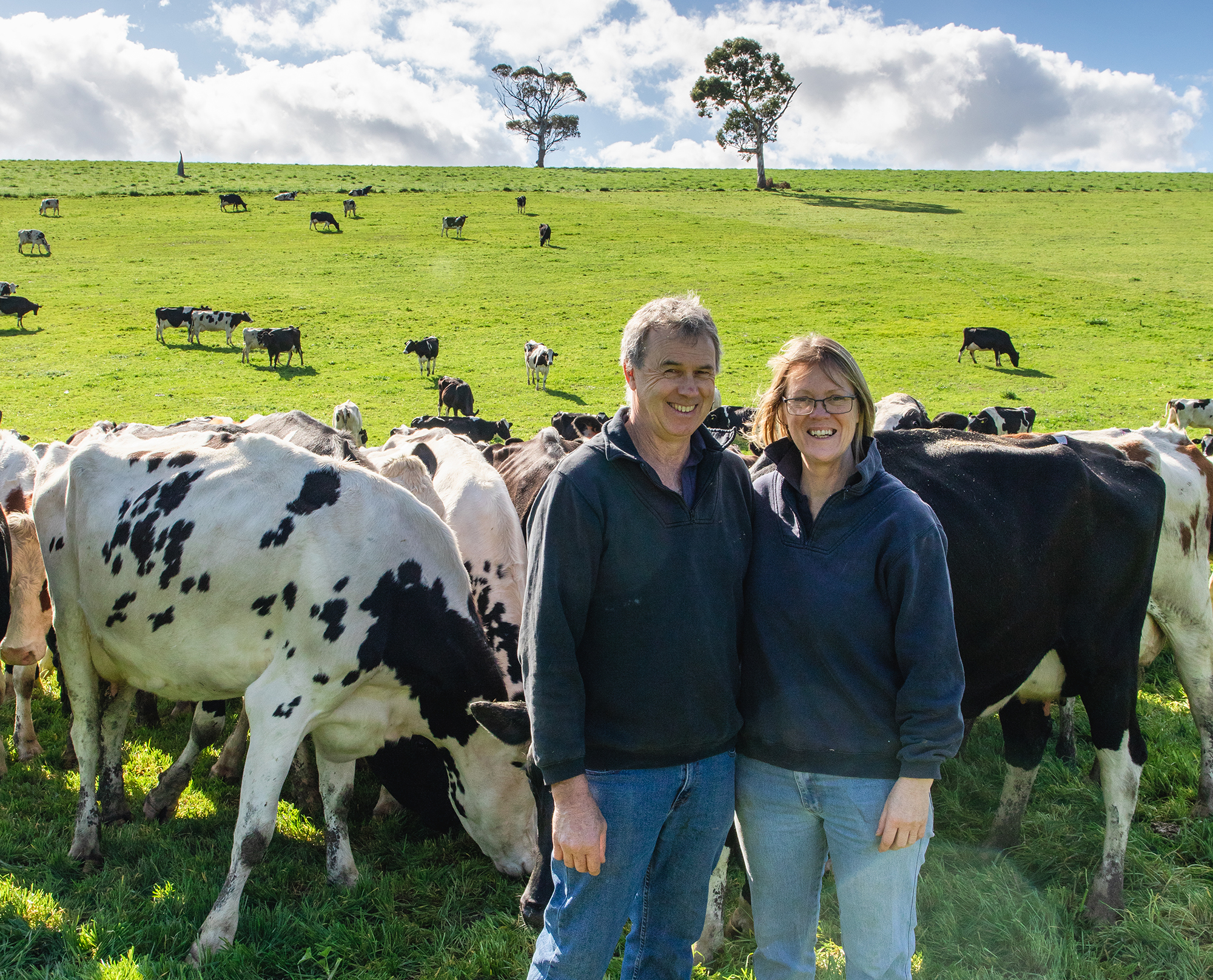 IAN & NICKI
Like many farmers, for Ian Willcocks dairy farming is a family affair. Owner of Yankalilla's Manna Farm alongside wife Nicki, Ian grew up on the 115-hectare property that he continues to farm today. He grew so fond of the family business that he and brother Peter eventually took over the farm from their parents in 1982.
For Ian's wife Nicki, the dairy farming lifestyle came as somewhat of a culture shock after years spent working in hospitality. But, enamoured by the lush green pastures and rolling hills, it's a lifestyle she quickly fell in love with.
Today, Manna Farm is home to 160 cows each with a name beginning with D, a tribute to the single cow that they can all be traced back to. "Every single one of the cows in the herd goes back to one particular cow from back in 1982," explains Ian.
Likening their past experiences to feeling like a cog in a wheel, Ian and Nicki have once again found community within the dairy industry as fresh faces in the Fleurieu Milk family. Since signing on as suppliers just a few weeks ago, Nicki says, "we're excited again, it's a good feeling all round. It gives us a little bit more drive, makes us happier with what's going into the vat and where it's going".
"It feels like family, you know everyone that's involved" adds Ian.