Frequently Asked
Questions
Proudly SA Owned & Operated
All Fleurieu Milk Company products are produced, processed and packaged on our farm at Myponga on the picturesque Fleurieu Peninsula in South Australia. The Fleurieu Milk Company is now one of the largest employers on the Fleurieu Peninsula with all profits being retained within the state to assist our local economy. It pays to buy local to support locals.
Proudly Supporting the Little Heroes Foundation
The Fleurieu Milk Company are extremely proud of their partnership formed with the Little Heroes Foundation. A great South Australian Company supporting a great South Australian Charity. Every time you purchase one of our Milk or Yoghurt products, part of the proceeds are donated to the Foundation to assist with the work it does for the children, from diagnosis to treatment and beyond. Visit www.littleheroesfoundation.com.auto see how you help Children Surviving Cancer and Serious Illness every time you buy any Fleurieu Milk & Yoghurt product.
What is the difference between Homogenised & Un-Homogenised Milk?
The answer is simple but the taste is something else! Homogenisation is a process the milk goes through that affects the cream globules in the milk. Homogenised means the cream is mixed into the milk while un-homogenised means the cream is not mixed in, giving you that old fashioned taste with the cream on top. The fat and cream content between Homogenised and Un-Homogenised milk does not change as the cream is not removed. It just visually appears different.
PIRSA Test Results - Quality Gives Quantity
PIRSA Evaluation of Textured Milk for Fleurieu Milk Company To make barista style coffee, a technique call texturing or stretching of the milk is used that heats the milk and also results in a micro foam being distributed into the milk. The mouthfeel, taste, and amount of micro foam produced is dictated by the levels of lactose, fat and protein in the milk. Fleurieu Milk Company had received anecdotal reports from customers using their Jersey Premium Full Cream homogenised milk that it resulted in more coffees per Litre in comparison to other milks. This short report summarises a brief investigation undertaken to verify these anecdotal reports. This work was undertaken by the South Australian Research and Development Institute under a funded Food Technology Program provided by Primary Industries and Regions South Australia.
Fleurieu Milk Company utilise an online ordering system called Ordermentum to collate all orders being placed. If you would like to set up an account to begin ordering Fleurieu Milk Company products please contact Christine on (08) 8558 6020 or christine@fleurieumilkco.com.au
How do you make lactose free milk?
Lactose intolerance is the reduced ability to digest milk sugars, due to insufficient amounts of the gut enzyme called lactase. Symptoms include bloating, gas, abdominal pain and diarrhoea. To counteract this and enable people that suffer from the above to digest milk the lactose can be removed from milk. We do this by adding an enzyme which converts all Lactose in the milk to Glucose and Galactose. Glucose and Galactose are sweeter than Lactose which makes the Lactose Free Milk taste sweeter than standard milk.
Is the Lactose Free an exact equivalent to zymil? Can it be used as a direct replacement?
Yes, however ours is more than half the amount of sugar per 100g
Will you produce a low-fat version of the lactose free?
At this stage no, however we are always considering new and innovative products for our customers.
Are any hormones used in milk production?
No, our farms are GM-free meaning they are free from any genetically modified material including added hormones.
Do you stock in Melbourne/Sydney etc?
Unfortunately not, although we are open to discussions with distributors nationally.
Is your yoghurt pasteurised?
Yes, our yoghurt is pasteurised however the starter culture does include Probiotics.
The treatment of all animals is important to the Fleurieu Milk Company. Whilst we purchase milk from multiple supplying farms who all have their own systems and procedures with calves, we do try to work as closely possible with them on this issue. The majority of our supplying farmers use artificial insemination to ensure up to 98% of their calves are heifers who are nurtured into the milking herd a couple of years later. Some of the remaining bull calves reared as service sires for other herds. The remainder of bull calves are sold to the abattoirs in accordance with Dairy Authority Guidelines.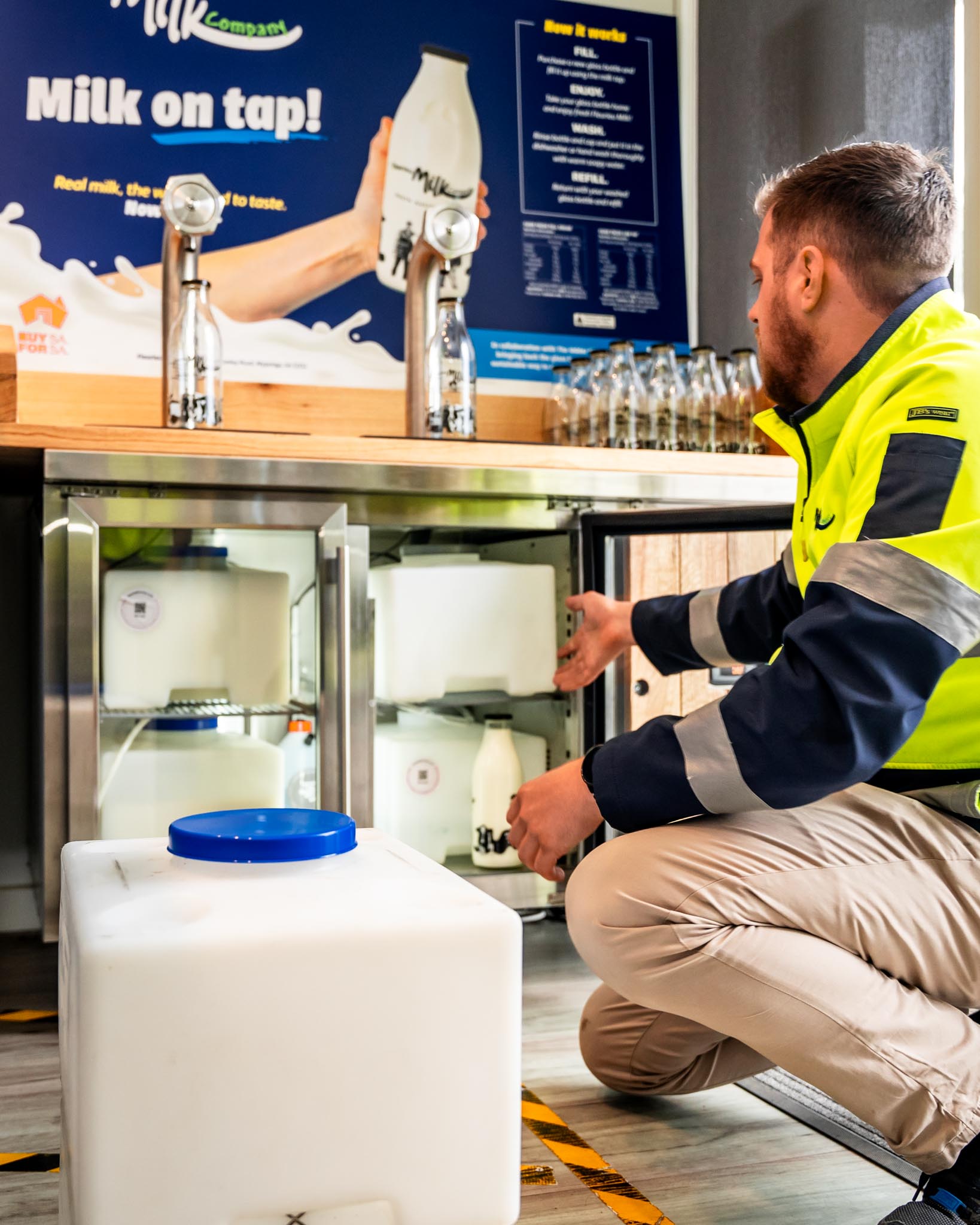 Where can I fill my glass bottle?
FMC Factory Myponga, all FMC market sites (Wayville, Willunga, Central Markets). Details of all participating stores is available on our website.
Will there be more places to refill?
Absolutely! We will be rolling this out across Adelaide, however we encourage customers to talk with their local store and put a request in for the system. Consumer demand will be the biggest driver in ensuring the success.
Can I fill other bottles I have?
Unfortunately, not. We have selected the bottles specifically due to food safety regulations and to ensure accurate weight dimensions. All of our bottles go through a hygienic process to ensure there is no pre-contamination prior to purchase.
I work at or own a café / restaurant / local store and am interested in having the system:
Please direct all enquiries to The Udder Way first, tina@theudderway.com or ph:0428179785. The Udder Way will contact them to discuss suitability of the system at their site. Then if the customer is interested in proceeding and installing a system, an FMC rep will contact them regarding milk pricing.
Do I re-use the glass bottle, or do I return it as an exchange?
The glass bottle system is set up for re-use. We do not provide cleaning for the glass bottles. To ensure you adequately clean the glass bottle, clean the bottle in your dishwasher or wash the bottle with warm soapy water. Do not cap the bottle until it is completely dry.
How are the kegs cleaned?
The kegs go through a hygienic cleaning process in accordance with Dairy manufacturing requirements. In addition to the cleaning, we are continuously validating the clean by regular microbial swabbing, product testing and chemical titration testing. The cleaning system was purpose built, with complete validation prior to implementing, to ensure that there is no food safety risk to our consumers.
Café / Restaurant / Retail Enquiries that in regional areas of SA
Kegs are available in the Adelaide CBD and surrounding suburbs, the Fleurieu Peninsula, Yorke Peninsula and Barossa Valley. Unfortunately, we can't yet service the Riverland Eyre Peninsula or Kangaroo Island however we would love to add this to our distribution services in the future.
Will other milk varieties be available in kegs down the track?
If the launch of Full Cream and Low-Fat varieties goes well, Fleurieu Milk will certainly explore the options of adding to the product range soon. This will be dictated by consumer demand and the acceptance of retailers to offer glass bottle refills in their stores.
What is the life expectancy of a keg and what happens to it after this?
The keg's have an expected life expectancy of 10 years, over the course of a kegs life we have estimated it will equate to elimination of 7000 single use milk bottles. When a keg reaches the end of it's 10 year life, the plastic is melted down and used to re-make new kegs.
Why is the milk not cheaper in refillable bottles when you don't have to pay for the packaging?
Sustainability means slower process, increased outputs and higher wages. In order to be able to introduce a sustainable product, we have had to slow down the process of production and increase resources and staff to manage that process. Sustainability practices are not about the quickest, cheapest way. By slowing the process and adhering to the best food safety standards possible, we continue to ensure that we supply a high quality product.
Is there a limit on the amount times I can refill the glass bottle?
No. Just ensure that every time you clean you either place the bottle in the dishwasher or wash with warm, soapy water. Bottle scrubbers are great for assisting with ensuring your bottle remains clean.