In a win for the environment and nostalgia, Fleurieu Milk Company is introducing new, refillable glass milk bottles, with their farm fresh product available on tap from a growing list of suppliers from October.
Like many of us these days, Fleurieu Milk has a strong focus on minimising its environmental impact. So, helping reduce reliance on single-use plastics is something the company has been exploring for a while, and something many customers have been asking for.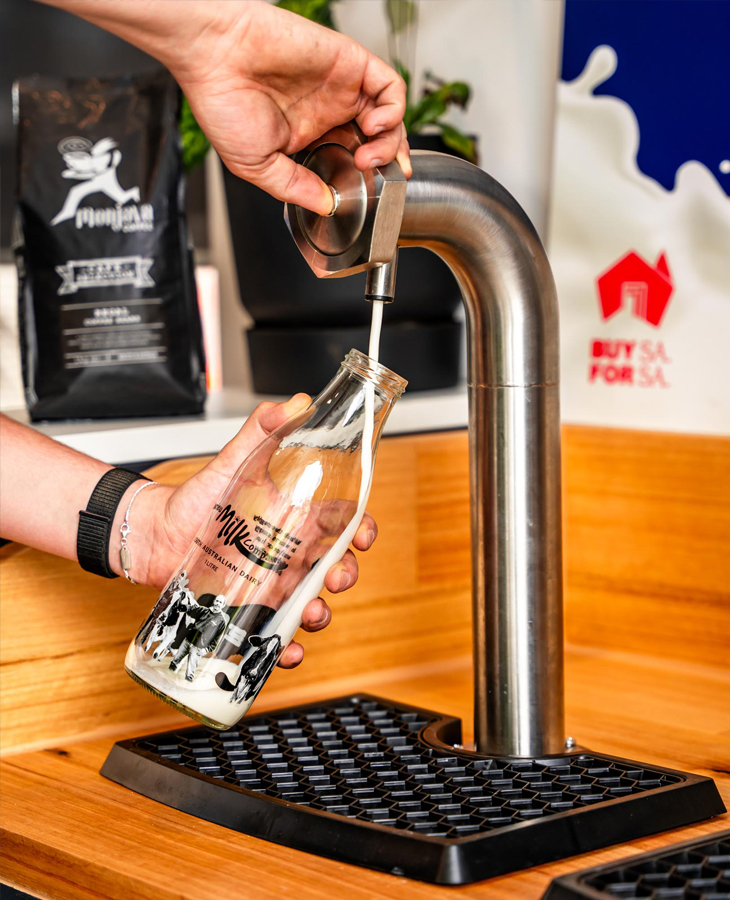 "We have for quite a few years been trying to work out a way to bring back the glass bottle and create a more sustainable way of processing," says Fleurieu Milk Company General Manager, Nick Hutchinson.
"You hear a lot of stories about how families used to have glass milk bottles delivered, and the glass milk bottles for breakfast at school, but obviously the world moves forward," Nick says.
"Glass is risky and thorough processes must be in place. Putting glass through our current processing plant creates a risk of physical contamination.
"That's why when we discovered The Udder Way, our ears pricked up pretty quickly!"
The Udder Way is a small, innovative Tasmanian company, whose 18L kegs can safely store and dispense Fleurieu Milk. Thanks to a new partnership with The Udder Way, and numerous suppliers who are embracing this exciting new way of sharing Fleurieu Milk, customers can now enjoy Fleurieu Milk Company's delicious product in refillable one-litre glass bottles.
Fleurieu Milk Company is proud as punch to offer a new solution to customers looking to reduce their environmental footprint and the amount of plastics they bring into their home. Did you know, one plastic bottle can take up to 450 years to break down?* However, through this game-changing new refillable milk bottle program, one 18-litre keg of milk will eliminate nine two-litre plastic bottles. And, over the lifetime of one keg, Fleurieu Milk customers will eliminate the need for 7000 single use plastic bottles (around 300 kg worth)! So that's less energy and fossil fuels going toward manufacturing plastic, and less plastic ending up in landfill and in our oceans.
Fleurieu Milk Company gave showgoers a sneak peek at Fleurieu Milk on tap at the recent Royal Adelaide Show, where it was very well received.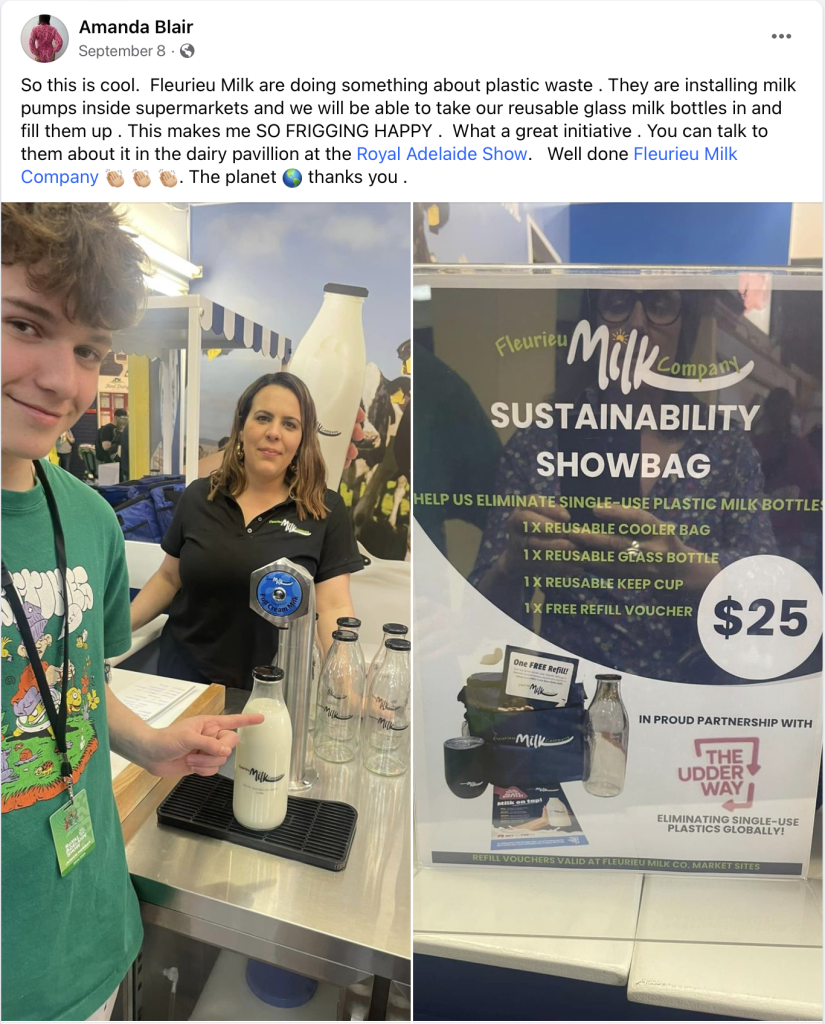 Bottles can also be filled at the Willunga Farmers' Market, Adelaide Showground Farmers' Market and the Central Markets, selected Drakes supermarkets, and a growing list of suppliers across Adelaide and greater South Australia (click here for the full list). Many cafes, restaurants and pubs are also showing an interest in stocking kegged milk, so they can reduce their plastic use, and have a ready supply of Fleurieu Milk for their thirsty customers' coffees.
The process is pretty simple: customers make a one-off purchase of an approved Fleurieu Milk glass bottle.
The customer brings their bottle to a Fleurieu Milk supply point, where they can have it filled. They pay for and take home their milk, and enjoy as usual. Once the bottle is empty, they clean the bottle according to supplied instructions, and repeat!
When an 18L milk keg runs out, Fleurieu Milk Company collects, cleans and refills the milk, before returning the keg to the customer for the process to start all over again.
"We are very proud to be launching this circular economy project as part of our business model, where customers can play a role in conserving resources and reducing waste," Nick.
"From protecting the clean, green and pristine farmland on the Fleurieu Peninsula where our cows graze, to simple choices we can make at home to lessen our impact on the world around us – conservation of our environment is something we as a business and as community members, are committed to," he adds.
The Udder Way's keg systems are HACCP Internationally Certified food grade kegs, which are free of BPA and Phthalate Plasticisers. As a bonus, at the end of their lifetime, they are also recyclable.
With milk obviously being a perishable product, to ensure this method of milk supply would be safe for consumers and not compromise on the food safety standards Fleurieu Milk Company is well known, and has been awarded for, the company spent around 18 months researching and planning how they could bring this opportunity to life safely.
Firstly, a team was sent on a fact-finding mission to Tasmania, to see how The Udder Way keg systems were being implemented there.
Fleurieu Milk then invested in a quarter of a million dollar upgrade of equipment at its Myponga factory, so kegs could be cleaned and filled safely.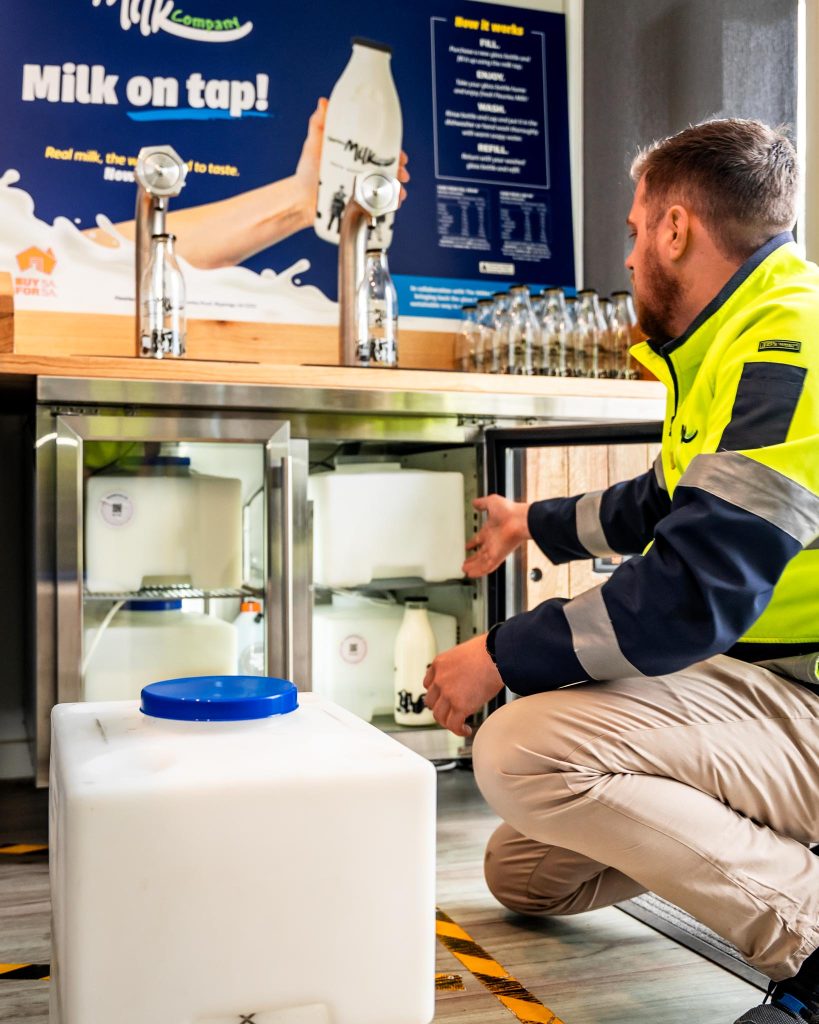 Fleurieu Milk's engineering and food safety teams designed their own keg cleaner, which was brought to life by Fleurieu Peninsula business Complete Custom Fabrication. The company also added new keg filling equipment to their plant.
This significant investment, from the company's own pocket and not subsidised by any grant funding, is testimony to how serious the company is about sustainability. Interestingly, the process of filling kegs is slower and hence less economical than filling plastic bottles, however the company is extremely passionate about being more environmentally responsible and knows its customers are too.
Milk in plastic bottles will still be available to purchase, however the company hopes offering a refillable glass milk bottle program may entice new environmentally conscious customers to try Fleurieu Milk, and expects some existing customers to opt for this new way to get their favourite milk.
When the company launches the program in October, there will already be 25 keg systems installed, with many more businesses expected to come on board, based on the high level of interest.
"Fleurieu Milk Company is excited to be leading our industry, in bringing something totally new to the market in SA," says Nick.
"It's innovative and new, something no-one else has done; it's good for the industry and good for the environment," adds Quality Assurance Manager, Tina Filippidis.
"We're now reaching launch day, and to see the fruits of our labour, having spent so much time making sure we get it right from the start, it's getting exciting to see how it goes."
Businesses or organisations interested in being part of Fleurieu Milk's refillable milk bottle program, are invited to get in touch here.
*Source: WWF Australia, https://wwf.org.au/blogs/the-lifecycle-of-plastics/