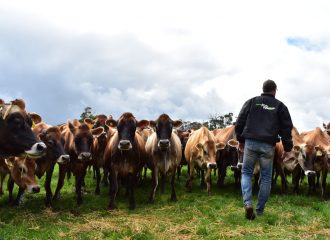 Myponga "One of the Best" for Dairy Farming
When it comes to Australia's best dairy farming regions, Fleurieu Milk co-director Geoff Hutchinson admits he's biased. "There are pockets throughout the country, but I think the Fleurieu is generally one of the best," he says. Myponga, located the Fleurieu Peninsula's foothills, is home to the five local farmers that supply Fleurieu Milk with raw product. Uniquely...
Meet the Farmers: Misty Brae
Misty Brae owners Gino and Mandy Pacitti start their day at 4.30am but always "aim to finish by 6pm, that way we get a bit of quality time to spend with family". After all, family is at the heart of Misty Brae's history and present-day operations, with Gino's parents first farming a small property after...