Misty Brae owners Gino and Mandy Pacitti start their day at 4.30am but always "aim to finish by 6pm, that way we get a bit of quality time to spend with family".
After all, family is at the heart of Misty Brae's history and present-day operations, with Gino's parents first farming a small property after emigrating from Italy in the 1950s.
"For whatever reason, they chose to become dairy farmers and they bought their first property on the outskirts of Myponga in 1964," explains Gino.
In 1970, they purchased Misty Brae's current land and grew the main herd to 50-60 cows.
As a child, Gino learned the ropes of farm life, milking cows before and after school. But despite this, his parents – hailing from a "peasant background" – attempted to dissuade their son from life as a dairy farmer, resulting in a seven-year stint spent away from the family farm.
During this time, Gino attended Roseworthy Agricultural College and cultivated a wealth of knowledge before forging a career in the industry, liaising with dairy farming families to buy and sell their properties at Elders.
But ultimately, he says, "I was always drawn back to agriculture, that's how I grew up".
"I found that I still had a yearning for the agricultural way of life and I returned to work with my parents for five years."
Gino's time away from the farm did little to quell his desire to farm but did allow a chance meeting with wife Mandy.
"I used to buy X Lotto tickets and when I was working with Elders I was transferred to Strathalbyn," he explains.
"That's where I met Mandy, she was working behind the X Lotto counter… I never won the Cross Lotto but I got the first prize anyway".
In 1991, they took over the family business and the rest, as they say, is history.
Today, Misty Brae has swelled from 25 to 300 hectares, with Gino and Mandy leasing additional land to farm a total of 400 hectares and produce two and a half million litres of milk each year.
Just as agriculture is seemingly written into Gino's DNA, so too is his connection to Myponga – a region he says is uniquely poised for dairy farming.
"In the Myponga region, we're blessed because we've got security of rainfall and abundant pasture growth, so most of our cows are free range, actively grazing the properties," he explains.
"Fortunately, we're not like Europe or America where they have to house the animals during the winter months. Our climate is more conducive to the outdoors, that's what cows are naturally bred to do: graze and forage."
Located just kilometres down the road from Fleurieu Milk, he and Mandy signed on as an official supplier from January 2020.
Of the partnership, Gino says, "we're on the same wavelength: we're both community oriented, we like to prosper and like to see others within the industry prosper – it's not just about ourselves"
"More importantly for our business, they offer us a sustainable price."
Forging healthy producer-supplier relationships is particularly important to Gino and Mandy as the industry attempts to recover following a period of immense instability.
"We've gone through a significant loss of the producer numbers, in just the last 10 years we've lost nearly a third of our dairy farming community," says Gino.
"Overall production Australia-wide has diminished by about 25%, so we need to re-establish and re-evaluate where the dairy industry is heading."
On the property, it seems to be heading directly for the farm's third generation, Ashley and Andrew.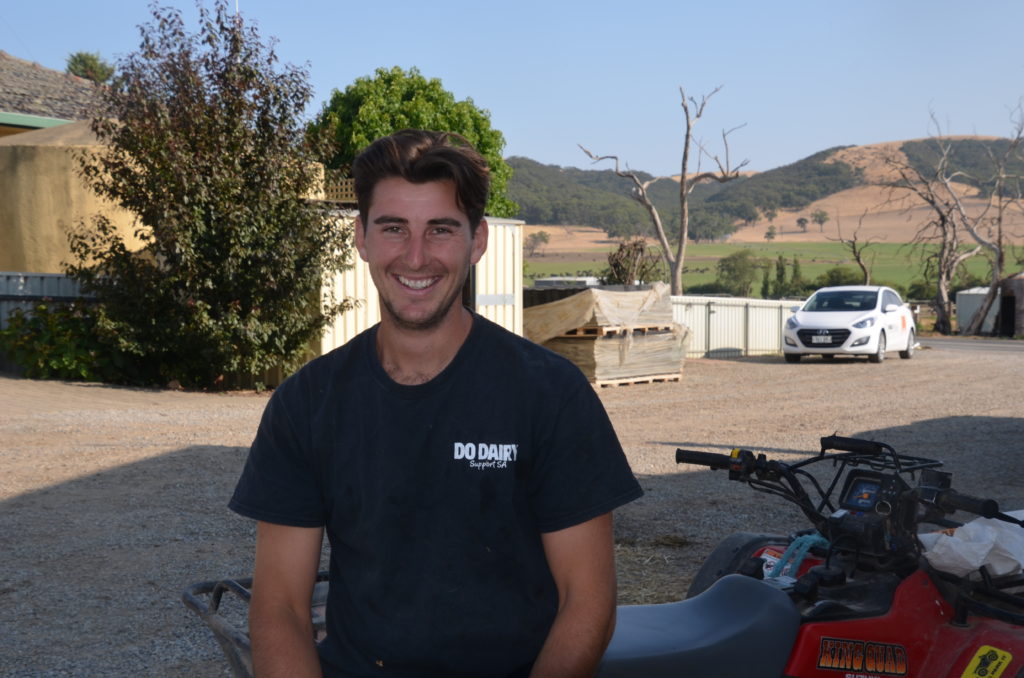 Andrew's first recollections of farm life involves "sitting on the motorbike with Dad or being on the tractor".
"As we grew up, we would get up a bit earlier and feed the calves before school, then come in and have breakfast and catch the bus into school," he says.
"I guess we were always part of the operation and I always loved it."
At 26 years old, Andrew's decision to stay on the farm boils down to a love of animals and farming, which he says is "something that no matter what I've done so far in my life, [has] always been the best part".
Identifying education and connection as crucial for the industry's survival, Gino and Mandy's industry passion extends beyond their own boys to the greater community.
Their involvement in the Cows Create Careers program – a project designed to give young people industry exposure – is telling of their commitment to fostering a sustainable industry.
For Mandy, it's simply, "a case of making the connection, talking to [young people] and answering their questions because there aren't those connections of having family [in the industry]".
"Once upon a time, the kids used to go to their aunt, or uncle, or grandparent's farm over the holidays but they don't have that anymore…and if you can make them understand what's involved in harvesting good quality milk you make those connections," she explains.
For those involved in the program and consumers alike, her key message is, "if you're buying a generic or home-brand, that's only going to kill the industry".
"Basically, when a supermarket puts their milk on the shelf for a discounted rate, the end result is that we as the farmer get paid less," adds Gino.
"Rest assured that it's not the supermarket that's losing out: it's the supplier or the producer because they pass on that cost."